Good Morning!
February 22, 2018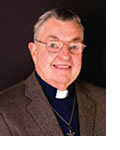 I wrote yesterday about "thoughts and prayers". In this age of facing so much evil prayer is vital. It must be much more than a nice remark made to sooth a bad situation. Our prayers must be intentional. Jesus taught us to go into our prayer closet pouring our hearts out to the Lord. What we see in school shootings and other evils is not a matter of needing more gun control. Though that may be of some help. At the core we must realize that we are in a spiritual battle with the forces of evil. Satan is a very real enemy, and our true weapons are God's Word and prayer. We need daily, intentional prayer for our young people that their hearts and minds would be turned to the Lord to be their strength and guide. Implore the Lord to deliver us, fighting our spiritual battles for us. (Psalm 35:1) Cry out for the presence of Christ who alone will overcome evil for all time. Thoughts are fine if they lead to some practical action. But prayer is essential. It is our weapon to stand against the forces of evil that seek to destroy us. 

Pastor Irvin Stapf
• Click here to watch or listen to Pastor Stapf's sermons
• Visit Pastor Stapf's blog here
---
A collection of Pastor Stapf's reflections has been published in . . .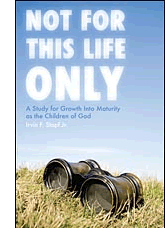 Not For This Life Only
A Study for Growth Into Maturity
as the Children of God
by Irvin F. Stapf , Jr.
"'What is your purpose in life?' Do you know where to begin in answering this question? If you are searching for a deeper purpose , Not for This Life Only will give you solid biblical truths to help you discover God's plan for you.
This insightful study will establish a firm biblical foundation as you prayerfully seek God's calling for your life. Through all of the circumstances of life, God is seeking to help us grow into Christ's example of sacrificial love. As a topic that can conjure up confusion, discover that God is not silent when it comes to the life he has called you to live.
Irvin Stapf weaves together common concerns such as purpose, family, suffering, and making mistakes and points them toward the focus and purpose in your life. Now is the time to start finding the answer to the question, 'What is your purpose in life?'
Irvin Stapf has been an ordained Lutheran pastor for thirty-eight years and is the Regional Pastor for the Eastern Region of the American Association of Lutheran Churches. Irvin, and his wife, Audrey, have been married for forty-three years and have five children. They currently reside in Mount Airy, Maryland."
148 pages - $11.99 (plus $3.00 S&H)

The book is published by Tate Publishing of Mustang,Oklahoma and can be obtained by going to the Tate website, or from the author at Christ Lutheran Church, 13903 Legion Court, Mount Airy, MD 21771.
The book can also be obtained through major book stores.
Copyright 2009