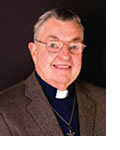 Dear Christian family and friends,  

     You likely noticed that I did not send out my usual Good Morning paragraph. It is time, I believe, to put those messages on hold for a while. In seeking to write these last few days, especially this morning, I struggled far more that usual with the right way to convey what I wanted. Whenever I encountered that in the past it turned out as an indication I was going in the wrong direction. I feel that is what our Lord is telling me now. I have so much I want to say, but we are a different time than any of us has faced before. I think our Blessed Lord is saying (to me at least) be quiet, and listen. You may remember a few days ago I used the verse from Isaiah 30:15, God calling us to quietness and trust. Facing our present time, I think this is where we all need to be. Our Lord Jesus, loves, cares deeply for, and still guides His people. 
     My  
wife and I are fine. We are well, except for trying to get a few aging things repaired. You are always in our prayers. Continue to pray for us. If you care to write or call please do. We're not going anywhere. Our address and e-mail remain the same. And as the "stay at home" order begins to be lifted, we will see, and hug, many of you again. 
     For the time being Good Morning messages will remain quiet. But never forget, or fail to trust the truth I've been seeking to convey for years - Jesus loves you very much. He gave His life to redeem you, and He can be trusted to walk with you no matter where you must go. 
In the love of Jesus our Lord,
Irvin F. Stapf, Jr.
Pastor Emeritus, Christ Lutheran Church