Good Morning!

November 20, 2019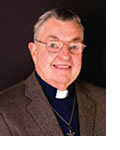 First things first. We all know that expression, but applies in many areas of life. My little grandson wants to be doing this or that right away, but he hasn't learned the basics needed to do this or that. It's all part of growing up. We are still growing up, too. We wonder/complain at times why our Lord doesn't do this, or change that, or why did He allow this to happen. But even with the Lord He has to deal with first things first. Maybe He needs to deal with some larger sin, or wrong attitude, or lack of understanding in us and others before He can change the outward thing concerning us. God deals with us as a good pastor even as Jesus did with the woman taken in adultery.(John 8) There were probably many aspects of her life that needed to be changed, but He started by forgiving her sins and giving her a new path in life. Other things would follow. If God dealt with every wrong thing in us at once we would be crushed. He begins by declaring our forgiveness through the shed blood of His Son. In that we are set on a totally new path. Then, throughout our life He graciously touches those areas needing change. First things first. 
Pastor (emeritus) Irvin Stapf
• Visit Pastor Stapf's blog here
---
A collection of Pastor Stapf's reflections has been published in . . .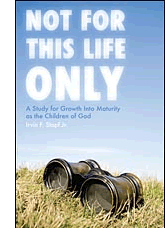 Not For This Life Only
A Study for Growth Into Maturity
as the Children of God
by Irvin F. Stapf , Jr.
"'What is your purpose in life?' Do you know where to begin in answering this question? If you are searching for a deeper purpose , Not for This Life Only will give you solid biblical truths to help you discover God's plan for you.
This insightful study will establish a firm biblical foundation as you prayerfully seek God's calling for your life. Through all of the circumstances of life, God is seeking to help us grow into Christ's example of sacrificial love. As a topic that can conjure up confusion, discover that God is not silent when it comes to the life he has called you to live.
Irvin Stapf weaves together common concerns such as purpose, family, suffering, and making mistakes and points them toward the focus and purpose in your life. Now is the time to start finding the answer to the question, 'What is your purpose in life?'
Irvin Stapf has been an ordained Lutheran pastor for thirty-eight years and is the Regional Pastor for the Eastern Region of the American Association of Lutheran Churches. Irvin, and his wife, Audrey, have been married for forty-three years and have five children. They currently reside in Mount Airy, Maryland."
148 pages - $11.99 (plus $3.00 S&H)

The book is published by Tate Publishing of Mustang,Oklahoma and can be obtained from the author at Christ Lutheran Church, 13903 Legion Court, Mount Airy, MD 21771.
The book can also be obtained through major book stores.
Copyright 2009