Good Morning!
November 24, 2017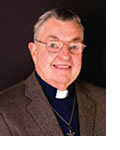 Why are you sitting there reading my message? You are supposed to be out shopping and helping the economy! Yes, I'm being sarcastic. This is Black Friday, the day after Thanksgiving, that is one of the biggest sales days for merchants in the U.S. I even got 4 or 5 Black Friday advertisements in my e-mail this morning. It just strikes me how quickly we go from being thankful for all the blessings we have, to running out and collecting more stuff. OK, I know everybody likes a good deal. I know merchants need to make a profit. I know some of the shopping is for gifts to give other. Etc. Etc. I would just like to see a little less commercialism pushed into our lives, and a little more living in an attitude of thankfulness for God's grace that is continually poured upon us. They started Christmas advertising two weeks before Thanksgiving. But I'm not going to change it, and neither are you. We can, though, use it all to remind our selves of the true source of all we really need. "Every good and perfect gift is from above, coming down from the Father of the heavenly lights,..."(James 1:17)

Pastor Irvin Stapf
• Click here to watch or listen to Pastor Stapf's sermons
• Visit Pastor Stapf's blog here
---
A collection of Pastor Stapf's reflections has been published in . . .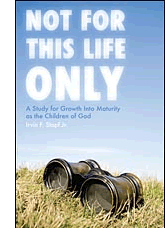 Not For This Life Only
A Study for Growth Into Maturity
as the Children of God
by Irvin F. Stapf , Jr.
"'What is your purpose in life?' Do you know where to begin in answering this question? If you are searching for a deeper purpose , Not for This Life Only will give you solid biblical truths to help you discover God's plan for you.
This insightful study will establish a firm biblical foundation as you prayerfully seek God's calling for your life. Through all of the circumstances of life, God is seeking to help us grow into Christ's example of sacrificial love. As a topic that can conjure up confusion, discover that God is not silent when it comes to the life he has called you to live.
Irvin Stapf weaves together common concerns such as purpose, family, suffering, and making mistakes and points them toward the focus and purpose in your life. Now is the time to start finding the answer to the question, 'What is your purpose in life?'
Irvin Stapf has been an ordained Lutheran pastor for thirty-eight years and is the Regional Pastor for the Eastern Region of the American Association of Lutheran Churches. Irvin, and his wife, Audrey, have been married for forty-three years and have five children. They currently reside in Mount Airy, Maryland."
148 pages - $11.99 (plus $3.00 S&H)

The book is published by Tate Publishing of Mustang,Oklahoma and can be obtained by going to the Tate website, or from the author at Christ Lutheran Church, 13903 Legion Court, Mount Airy, MD 21771.
The book can also be obtained through major book stores.
Copyright 2009