Good Morning!
September 18, 2019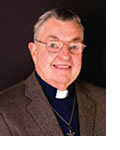 Some time back a local merchant sent out prize certificates to the community as part of an advertising campaign. You know the kind. Scratch off the silver coating, and see if your number matches the winning number. Well, ours did. We won a thousand dollar shopping spree. Pretty good, right? All the shopping was to be done at an online site. The things offered were small and generally not very useful. Even further, we would have to pay the shipping cost, which amounted to about half the price of the item. The promises on the outside were not matched by what was available on the inside. Such is never the case with our Lord. Jesus said, "I have come that you may have life, and have it more abundantly." (John 10:10) God doesn't give us everything we want in life. At times we have to endure pain and suffering. But the promise of His eternal presence is always true. The deeper we go in the life our Lord provides, the richer that life becomes. We learn that His strength and grace are better than any worldly prizes. His promises are never hollow, or lacking. The promises of this life often let us down. God's never will. And the best is yet to come.
 Pastor (emeritus) Irvin Stapf
• Visit Pastor Stapf's blog here
---
A collection of Pastor Stapf's reflections has been published in . . .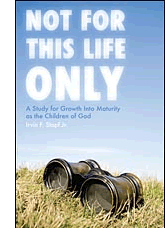 Not For This Life Only
A Study for Growth Into Maturity
as the Children of God
by Irvin F. Stapf , Jr.
"'What is your purpose in life?' Do you know where to begin in answering this question? If you are searching for a deeper purpose , Not for This Life Only will give you solid biblical truths to help you discover God's plan for you.
This insightful study will establish a firm biblical foundation as you prayerfully seek God's calling for your life. Through all of the circumstances of life, God is seeking to help us grow into Christ's example of sacrificial love. As a topic that can conjure up confusion, discover that God is not silent when it comes to the life he has called you to live.
Irvin Stapf weaves together common concerns such as purpose, family, suffering, and making mistakes and points them toward the focus and purpose in your life. Now is the time to start finding the answer to the question, 'What is your purpose in life?'
Irvin Stapf has been an ordained Lutheran pastor for thirty-eight years and is the Regional Pastor for the Eastern Region of the American Association of Lutheran Churches. Irvin, and his wife, Audrey, have been married for forty-three years and have five children. They currently reside in Mount Airy, Maryland."
148 pages - $11.99 (plus $3.00 S&H)

The book is published by Tate Publishing of Mustang,Oklahoma and can be obtained from the author at Christ Lutheran Church, 13903 Legion Court, Mount Airy, MD 21771.
The book can also be obtained through major book stores.
Copyright 2009